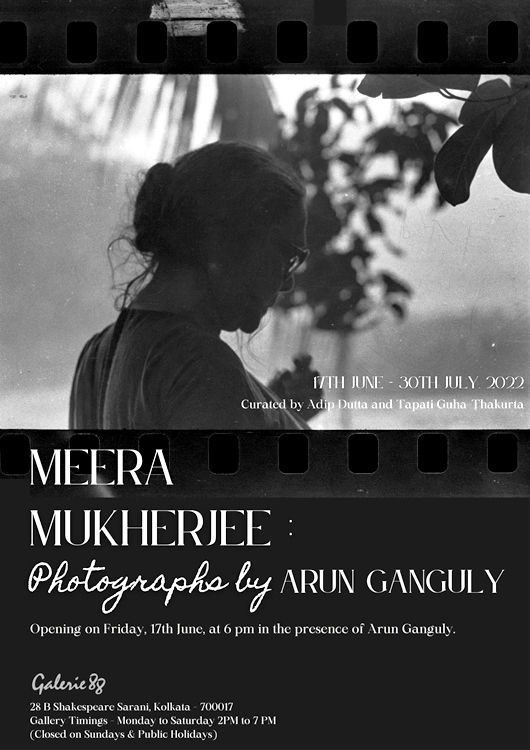 MEERA MUKHERJEE (12th May, 1923 - 27th January, 1998):
CELEBRATING HER CENTENARY
The immense intricacy (often referred to as 'technicality' by the artist herself) and labour of her process of sculpting became the defining identity of Meera Mukherjee. Her work became for her a way of life, an alternative chosen mode of existence, as she carried the lost-wax technique of metal-casting that she had learnt from traditional metal craftsmen of India into new orders of scale, innovation and creativity, and as she simultaneously moved her individual practice into a place of collective community work. This image of her working in the small verandah of her rented home on Paddapukur Road in Bhawanipur in south Kolkata was taken in 1978 by the professional photographer, Arun Ganguly. As her neighbour in Bhawanipur and a committed observer of her work processes and their end-products, Arun Ganguly photographed Meera Mukherjee over several seasons of her sculpting, in her Kolkata home and at her work place at Elachi (a rural suburb of the city). He began photographing her in 1978, resuming in the 1990s, and poignantly carrying over into the months after her death in 1998, when he ended his series by documenting the completion of her last unfinished work, her monumental seated Buddha, by the community she had trained and nurtured.
Galerie 88 is honoured to mark Meera Mukherjee's 99th birthday today and the beginning of her centenary year, by announcing a forthcoming exhibition of a selection of these extraordinary photographs from the large Arun Ganguly collection. Jointly curated by Tapati GuhaThakurta and Adip Datta, the exhibition is scheduled to open at the gallery on Friday, 11th June, 2022. On the anvil are other programmes for this centenary year - lectures, conversations, films screenings, leading to the publication of a long-planned book on Meera Mukherjee, that will be compiled and edited by Tapati Guha-Thakurta.